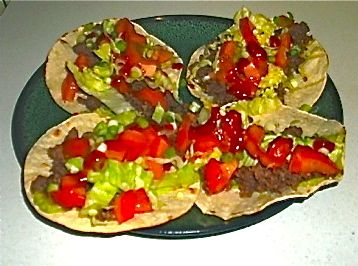 Most taco seasoning mixes contain wheat. This recipe has the same ingredients without the wheat!  These tacos are even better with fresh guacamole and salsa.
Seasoning for Tacos
Stir together in small bowl:
1/2 tablespoon chili powder
1 teaspoon cumin
1/2 teaspoon oregano
1/2 teaspoon onion salt
1/4 teaspoon paprika
Taco Meat
1 pound lean ground beef
1 pound sausage (I use Jimmy Dean's Regular)
Brown in large frying pan over medium heat, chopping meat into small pieces. When browned, drain, then add seasoning mix and stir well.
Corn Tortillas
Heat broiler. Spray baking sheet with oil. Cover baking sheet with a single layer of tortillas; they will hang over the edges. Broil tortillas for 2 minutes. Remove from oven and turn tortillas over. Broil an additional minute.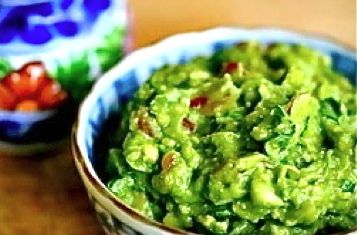 Fresh Guacamole
2 ripe avocados
2 cloves garlic, minced
1/2 red onion, minced
1 serrano chili, chopped
2 tablespoons fresh cilantro or celery leaves, chopped
1 tablespoon fresh lime juice
1/2 ripe Roma tomato, seeds and pulp removed, chopped
dash of pepper
salt to taste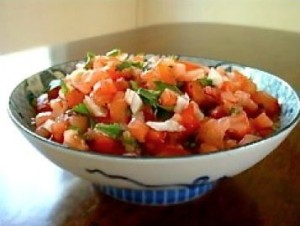 Fresh Salsa
2 Roma tomatoes, chopped
1/2 onion, diced
2 cloves garlic, diced
2 serrano chilis, chopped
2 tablespoons cilantro or celery leaves, chopped
1 teaspoon fresh lime juice
dash of pepper
salt to taste
To assemble tacos:
Place tortillas on a plate, spoon the desired amount of taco meat on top.
Serve with:
• Guacamole (If you don't want to make the guacamole, I use Wholly Guacamole, found in produce section)
• Salsa
• Lettuce, chopped
• Tomatoes, chopped
• Scallions (or green onions), chopped
• Hot sauce