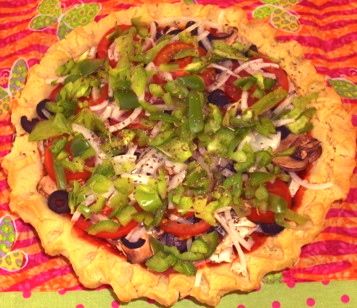 Everybody loves pizza. This gluten-free/casein-free version has a delicious crust and is so yummy you won't miss the cheese.
Crust
1 cup millet flour
1/2 cup brown rice flour
1/2 cup quinoa flour
1/2 tablespoon guar gum
1 teaspoon baking powder
1 teaspoon salt
1/2 cup shortening
1 egg, beaten
1/2 tablespoon cider vinegar
1/2 cup cold water
Pie Filling
1 can tomato sauce or jar marinara sauce
meats such as bacon, ham, sausage and chicken
veggies such as onions, green pepper, mushrooms and olives
Whisk dry ingredients together. Add shortening and use pastry cutter until mix has even, small chunks. Make a hole in the center. Add egg, vinegar and cold water. Knead dough about two minutes and form a ball. In pie pan, mold dough smoothly to make a shell, throughout the pan and making a ridge on the sides. Make scalloped edges on ridge using your thumb and fingers. Bake crust for 15 minutes before adding fillings.
With spoon, smooth tomato sauce in pie shell, including part way up the sides. Add Italian seasoning, then add toppings as you like. Cover pie crust edges with foil to prevent overcooked dark edges. Bake in 400 degrees for 15 minutes.