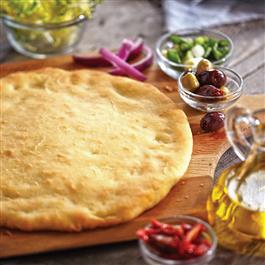 1 cup gluten-free all purpose flour
1/2 cup brown rice flour
1/2 cup millet flour (any gluten-free flours may be substituted)
1/3 cup gluten-free oats
1 tsp guar gum
1/2 tsp salt
4 tsp baking powder
1/2 cup shortening
1 well beaten egg
1/4 cup milk
Cut ingredients together with a pastry cutter and mix well. Spread in a jelly roll or pizza pan. Bake crust at 425 degrees for 10 minutes.
To make pizza: Top baked pizza crust with tomato sauce, Italian seasoning, sausage, peppers, olives, mushrooms and any other pizza toppings. Cover with grated cheese. Cover edges with foil to keep from burning. Bake at 425 about 10 minutes until cheese melts.