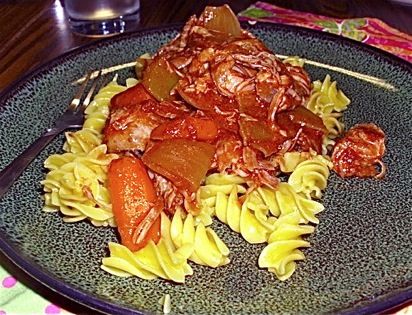 For this recipe I use quinoa spiral pasta and spareribs.
4 carrots, coarsely chopped
3 stalks celery, coarsely chopped
1 onion, chopped into 8 wedges
4 cloves garlic, minced
4 pounds pork spareribs or baby back ribs, cut into 3 or 4 pieces
2 (8 ounce) cans tomato sauce
1/2 cup beef broth
1-1/2 tablespoon balsamic vinegar
1/2 teaspoon oregano
1/2 teaspoon thyme
1/2 teaspoon salt
2 tablespoons millet flour (or other gluten-free flour)
1/4 cup water
1 box gluten-free pasta
In crockpot, combine carrots, celery, onion and garlic. Overlap the meat over the vegetables. In a bowl, stir together tomato sauce, broth, vinegar, oregano, thyme and salt. In separate small bowl, stir together flour and water, then whisk into tomato mixture. Pour over ribs. Cook on low for 8 hours.
Using a slotted spoon, remove ribs from pot to a plate to cool. Remove the meat from the bones and break into pieces. Stir back into crock pot.
Prepare pasta by adding 1 teaspoon olive oil and pasta to pan of boiling water. Boil for 7 minutes then drain. Serve meat sauce over pasta.