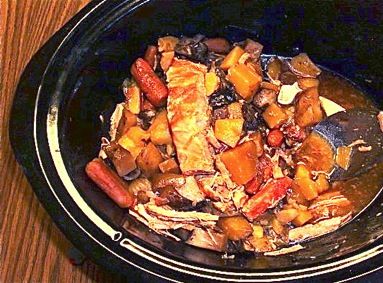 If the roast is still frozen I place it in cold water just long enough to loosen the packaging, and then cook it in the crock pot overnight. If the roast is thawed, it is okay to prepare it in the morning and cook during the day.
2-3 pound boneless pork loin roast
2 pounds yellow potatoes with skin, chopped
15 mushrooms, quartered
1 onion, peeled & wedged
1 pound baby carrots
3 bay leaves
2 teaspoon Knorr's Caldo de Res or Pollo bouillon
1 cup water
In crock pot add potatoes, mushrooms, onions and baby carrots. Place roast on top, pushing some veggies to the sides to make room. Add bay leaves. Stir bouillon into water then pour over roast. Cover with lid and set on low. Cook overnight or for 8 hours on low heat.