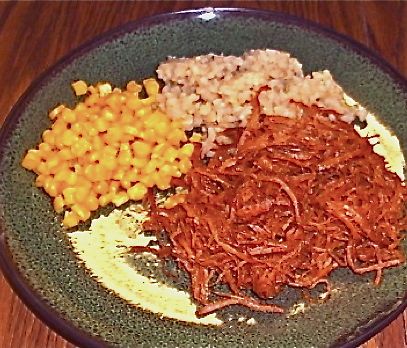 I've had many versions of pulled pork. This simple recipe is the one my family likes best! I like my pulled pork over rice – very tasty!
2-3 pounds boneless pork roast
2/3 cup brown sugar
1/3 cup apple cider vinegar
1/3 cup olive oil
1/3 cup water
1 tablespoon garlic salt
1 tablespoon seasoning salt
½ tablespoon cummin
Remove pork roast from wrapping and place in crock pot. In small bowl, add brown sugar, vinegar, olive oil, water, garlic salt and cumin. Stir well, then pour over roast. Cover and set crock pot to low. Cook on low for 8 hours, or overnight. When cooked, pull pork using two forks to tear apart. Stir in liquids. Depending on size of roast, you may need to add 1/2 cup water to get the desired moistness.