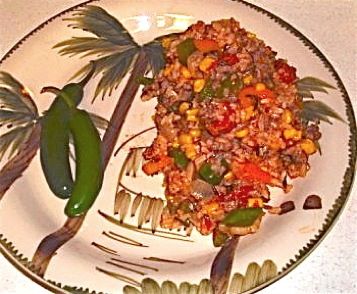 A family favorite!
1/4 cup brown rice
1/4 cup wild rice
1-1/2 cups white rice
4 cups water
1 pound sausage (I use Jimmy Dean Regular)
2 cloves garlic, chopped
1 onion, chopped
16-ounce bag frozen corn
1 (14.5 ounce) can diced tomatoes
1 small can water chestnuts
1 green pepper, chopped
1 orange pepper, chopped
1 tablespoon fresh basil, chopped
2 tablespoons fresh parsley, chopped
1 tablespoon seasoning salt or Mrs. Dash
1/2 tablespoon chili powder
1/2 teaspoon cumin
Bring water to a boil; stir in rice. Cover and set burner to low and cook for 30 minutes. Fluff with a fork.
In frying pan, add sausage, garlic, and onion, and brown over medium heat. When sausage is cooked, add sausage to rice pan. Add all other ingredients and stir well, warming through.