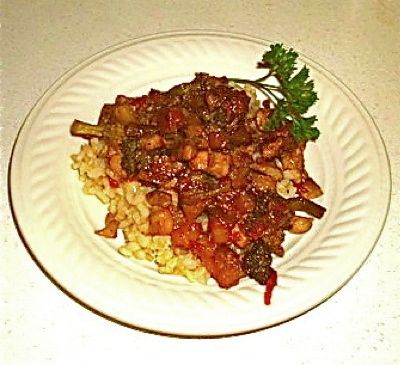 My nephew, Jared, gave me his recipe for Chicken Adobo. He fell in love with this dish while in the Philippines. He said they make it for holidays and special occasions. I have made variations to his recipe. I serve it over brown rice. I use Lundberg Organic Short Grain Brown Rice, which I buy at Costco. It comes in a large 12 pound bag. It cooks up nicer and is more delicious than any other brown rice I've ever tried.
4 chicken breast or thighs (boneless and skinless)
1 onion, peeled and chopped
5 cloves garlic, peeled and diced
1 ginger root, about 3 inches, peeled and grated (or 2 tablespoons dried ginger)
2 potatoes (with skin), chopped
1 carrot, peeled and shredded
1 small bunch of broccoli, stem removed and chopped into small florets
1/4 cup olive oil
2 bay leaves
1/2 teaspoon pepper
1/2 cup rice vinegar
1/2 cup soy sauce (La Choy brand is gluten-free)
water

Prepare rice as directed. (I use 1 quart water and 2 cups rice.)
Cut chicken with sharp kitchen scissors. Set aside. In small bowl, place onion, garlic, ginger root, and potato. Place carrot and broccoli in separate bowl. In large frying pan (mine is 12 inches) or electric frying pan, add oil. Heat for one minute on medium-high, then add the onion, garlic, ginger root and potato to cook for about 5 minutes, stirring often. Add chicken, stirring until cooked, about 5 minutes.
Add vegetables, bay leaves and pepper. Turn to high heat and add rice vinegar. Cook while stirring about 1 minute – to cook off liquid. Add soy sauce and two cups water. Boil ten minutes, stirring often. If needed add 1 cup water and cook until done (about 5 more minutes). Check potatoes for tenderness. Liquid should be thick from the potato starch. Your time and amount of water may vary, according to your pan and burner.
Serve chicken over rice.