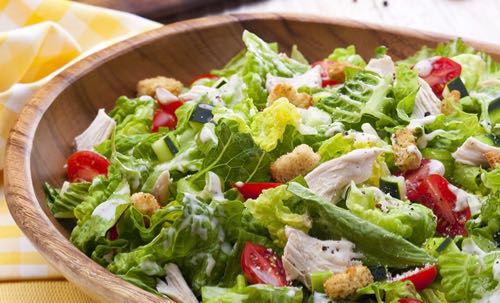 Caesar Dressing:
1/4 cup fresh lemon juice
1 tsp Dijon mustard
2 garlic cloves, pressed
1 tsp sugar
1/4 tsp black pepper
1/4 cup Parmesan & Romano cheese, grated
3/4 cup extra virgin olive oil
Mix until well blended. Store in fridge until ready to use. Let chill for at least one hour before serving.
Salad:
2 chicken breasts
2 Tbsp extra virgin olive oil
1 bunch Romaine lettuce, torn
2 tomatoes, sliced
1 cucumber, peeled and sliced
1/2 cup mozzarella cheese
In frying pan, cook chicken in olive oil until done. Cool. Toss vegetables and chicken with dressing. If desired, make croutons with cubed gluten-free bread.