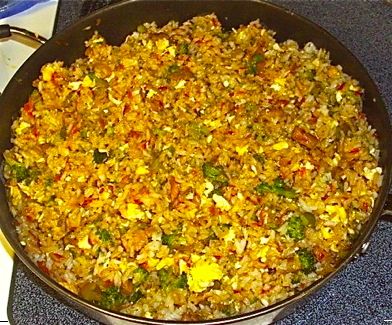 A quick and easy favorite of my family!
2 chicken breasts or thighs
1/4 cup soy sauce (La Choy brand is gluten-free)
4 cups water
2 cups white rice
1/2 cup olive oil
2 cloves garlic, chopped
1 small onion, chopped
2 carrots, grated
1 bunch broccoli, cut into florets
6 eggs
olive oil
soy sauce
Begin by cutting chicken into small pieces. Place in container with lid; add soy sauce and marinade for 1/2 hour. Bring water to a boil. Stir in rice. Turn temperature to low, cover with lid and cook for 25 minutes. Fluff rice with a fork.
Prepare garlic, onion, carrots and broccoli. Heat olive oil on medium-high heat in a large frying pan. Add chicken and vegetables. Stir until chicken is cooked and veggies are slightly tender.
Spray a separate frying pan with olive oil. Add eggs and scramble, cooking the egg whites first, then quickly breaking the yokes to coat egg whites so eggs are soft. Add rice and eggs to chicken and vegetables. Sprinkle with olive oil and soy sauce. Serve while hot.