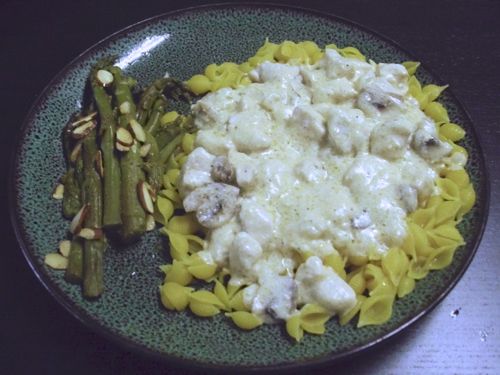 4-6 bonless skinless chicken breasts, cubed
1 large onion, chopped
A few garlic cloves, peeled and minced
2 tablespoons olive oil
8 ounces fresh mushrooms, sliced
2 boxes gluten free pasta (my favorite is quinoa)
1 cube butter
24 ounces sour cream
1 tablespoon Seasonal All
1  teaspoon poultry seasoning
1 teaspoon black pepper
2 Tablespoons corn starch (with 1/4 cup water)
Heat burner to medium-high heat. Add chicken, onions, garlic and olive oil to pan. Cook chicken, stirring often until tender. Add mushrooms and cook until tender. In separata large pot heat water. Add pasta and time for 9 minutes or until tender. Drain. Add butter and sour cream to chicken, melting butter and stirring to make a smooth sauce. Add Season All, poultry seasoning and pepper and stir. In small container stir corn starch and water together. Make sure sauce is bubbling then add corn starch. Stir in to thicken.
Serve sauce over pasta.