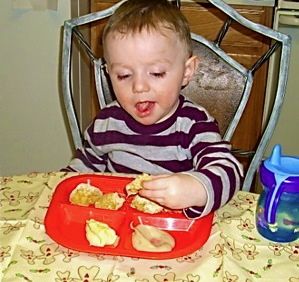 Chicken nuggets are loved by kids and grown ups too! I love serving mine with a choice of dipping sauces. You can use your own or try mine!
4 chicken breasts
2 eggs
1 cup gluten-free corn meal
1/2 cup quinoa flour
1 tablespoon seasoning salt
1/2 teaspoon oregano
1/2 teaspoon garlic salt
Heat oven to 400 degrees. Cut chicken breasts into three long strips. Cut the side strips into three and middle strip into four. This will make 40 chicken nuggets. Set aside. In small bowl beat eggs and set aside. In mixing bowl, add corn meal, rice, seasoning salt, oregano and garlic salt. Stir well using wire whip. Put foil on cookie sheet or baking pan. Spray with oil. Using a few pieces of chicken at a time, coat chicken in egg, then place in the bowl with the dry ingredients. Toss to cover each piece. Arrange on foil-lined pan. Bake for 40 minutes in heated oven.
Creamy Barbeque Dip
1/2 cup Kraft mayonnaise
4 tablespoons barbeque sauce.
Whisk ingredients well in small bowl. Serve or refrigerate.
Creamy Honey-Mustard Dip
1/2 cup Kraft mayonnaise
1 tablespoon mustard (I like Dijon)
3 tablespoons honey
Stir ingredients together in small bowl. Serve or refrigerate.