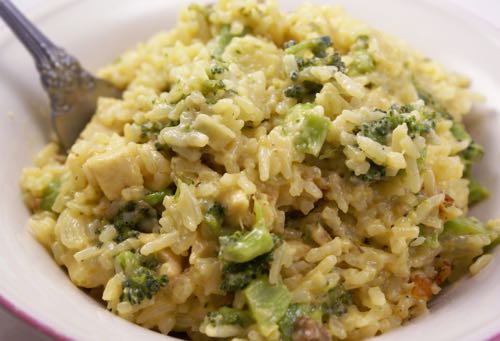 2 cups brown rice
4 chicken breasts
3 Tbsp olive oil
1 lb container sour cream
1 tsp seasoning salt
1 tsp onion salt
1 small pkg frozen broccoli
2 cups grated cheddar cheese
Boil 4 cups of water. Stir in rice and cover with a lid. Cool on low for 45 minutes. Remove from burner and let sit, covered, for 5 minutes.
While rice is cooking, cut chicken breasts into bite size pieces. Cook in olive oil in a pan on medium heat. Cover with a lid for faster cooking.
In a baking dish, combine rice, chicken, sour cream and seasonings. Cover with broccoli and top with grated cheese. Cover with a lid or foil. Bake at 350 degrees for 45 minutes.
Skinny Version: Use lowfat or fat-free sour cream and cheese.