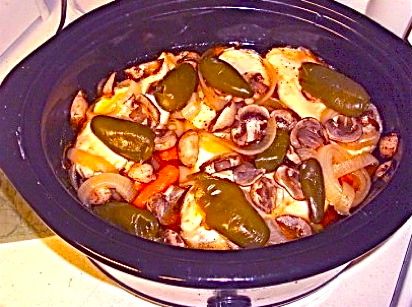 This recipe is a version of one that my son loves, made gluten and casein free. It is a bit hot for kids, so you can either make two batches, one with and one without jalapenos, or you can use fewer jalapenos.
2 pounds red potatoes, cubed with skins
1 pound baby carrots
4-6 boneless, skinless chicken breasts
1 onion, sliced
8 mushrooms, sliced
8 jalapeños (I used bottled for this recipe, but fresh can be used)
1 quart chicken broth
In crockpot, place potatoes, carrots, chicken breasts, onion rings, mushrooms, and jalapeños then pour broth over the top. Cover with lid and cook on low for 8 hours. When this is done, I like to slightly mash the potato pieces with a fork, to thicken the juice.