Easy Oven Baked Chicken Fajitas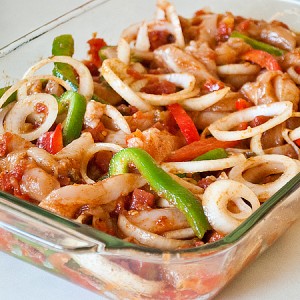 1 pound boneless skinless chicken breasts, cut into strips
1 onion, sliced
2 bell peppers (green and red), sliced
2 tablespoons olive oil
2 teaspoons chili powder
2 teaspoons cumin
1 teaspoon garlic salt
1 teaspoon oregano
¼ teaspoon salt
1 15-ounce can diced tomatoes with green chilies
Corn tortillas
Sides such as lettuce, cheese, sour cream and guacamole
Preheat oven to 400 degrees. Place chicken, onions and pepper in pan. Toss with oil. Combine chili powder, cumin, garlic salt, oregano and salt in small bowl. Sprinkle over chicken , etc and toss to combine. Bake uncovered for 25 – 30 minutes until chicken is cooked through.
Place tortillas on sprayed baking sheet and spray them lightly with olive oil spray. Heat broiler. On top rack, broil tortillas 2 minutes; turn and broil an additional minute.
Also good served as a salad.