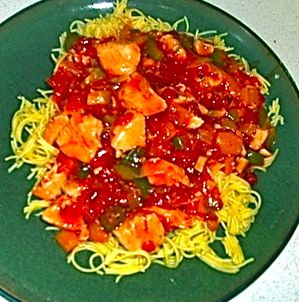 This recipe offers a healthy and tasty version of spaghetti! In the  summer I like to use fresh tomatoes I've grown in my garden, but you can also use canned tomatoes. I buy my gluten-free spaghetti pasta at the grocery store. For this recipe I bought De Boles brand corn spaghetti pasta at Walmart.
3 tablespoons olive oil
1 onion, chopped
4 cloves garlic, minced
4 boneless, skinless chicken breasts, cubed
1 (29 ounce) can tomato sauce
1 (28 ounce) can petite diced tomatoes (or about 6 garden fresh tomatoes,    blanched, with skins removed)
1 small zucchini, chopped
1 yellow pepper, chopped
1 serrano pepper, thin sliced
8 mushrooms, chopped
2 tablespoons fresh basil, chopped
2 tablespoons fresh parsley, chopped
2 teaspoons salt
1/2 teaspoon pepper
2 (8 ounce) boxes gluten-free spaghetti pasta
Start by chopping meat, veggies and herbs. In frying pan pour olive oil. Add onion, garlic and chicken. In large pot, add tomatoes, zucchini, peppers, mushrooms, basil, parsley, salt and pepper. Heat both pans on medium. Fry chicken until cooked thoroughly. Meanwhile, simmer veggie sauce. When chicken is done, drain then add to the veggie sauce. Cover with lid and turn heat off.
Prepare pasta as directed on box. Cook 7 minutes. Drain; return to pan and stir in 1 tablespoon olive oil. Top the pasta with the veggie sauce, serve and enjoy!