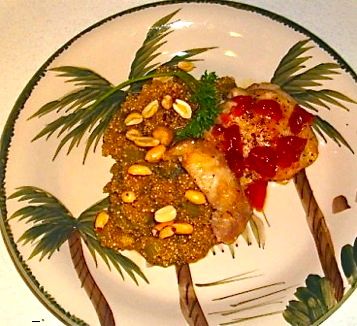 These chicken thighs are delicious with the quinoa dressing! Quinoa is becoming a more popular choice for those of us who eat gluten free because it can be used in many diverse ways and adds a nice variety to a somewhat limited diet.
1 tablespoon olive oil
1/4 cup peach or apricot preserves (I use my own homemade preserves)
1 tablespoon Dijon mustard
6 chicken thighs, boneless & skinless
1/4 teaspoon salt
1/8 teaspoon pepper
2 cups chicken broth
1 medium onion, chopped
2 stalks celery, chopped
1 cup quinoa
1/2 teaspoon salt
1/8 teaspoon pepper
1/4 cup roasted peanuts
Heat oven to 400 degrees. In small bowl, stir together olive oil, preserves, and mustard. Set 3 tablespoons of mixture aside in a separate bowl for the quinoa. Spray roasting pan with olive oil.  Place chicken on pan. Season with salt and pepper. Bake for 20 minutes. Spoon mustard mixture over chicken. Return to the oven and bake an additional 20 minutes.
While chicken is cooking, make quinoa dressing. Place chicken broth, onion, celery, quinoa, salt and pepper in medium pan. Bring to a boil. Cover and simmer on medium-low for 15 minutes. Stir in mustard mixture.
Serve by spooning quinoa onto a plate and sprinkling with peanuts. Serve chicken on top of the quinoa dressing.