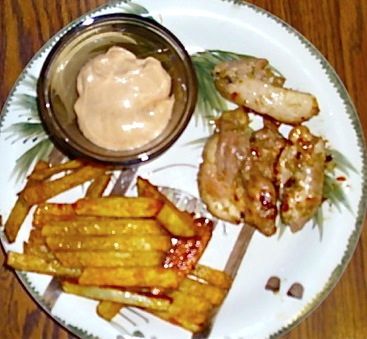 4 boneless, skinless chicken thighs, or 3 breasts
1/3 cup honey
2 tablespoons cider vinegar
1 lime
2 cloves garlic, diced
1/2 teaspoon paprika
2 pounds yellow potatoes
olive oil
seasoning salt
Cut chicken into strips, about 4 per thigh or 6 per breast. In bowl, stir together honey, vinegar, zest of 1/2 lime plus juice of whole lime, garlic, and paprika. Pour over chicken strips and cover. Marinade 30-60 minutes.
While marinating chicken, heat oven to 400 degrees. Slice potatoes into fries. Spray foil placed on baking sheet with olive oil. Arrange fries then brush with olive oil. Sprinkle with seasoning salt. Bake for 50 minutes.
In frying pan heat 2 teaspoons olive oil on medium heat. Add chicken strips and marinade. Fry 5 minutes then turn strips over. Cook until chicken is white through, when checking with a knife.
Serve potatoes with fry sauce made with 1/2 cup mayonnaise and 1/4 ketchup, or a barbecue version made with 1/2 cup mayonnaise and 2 tablespoons barbecue sauce.