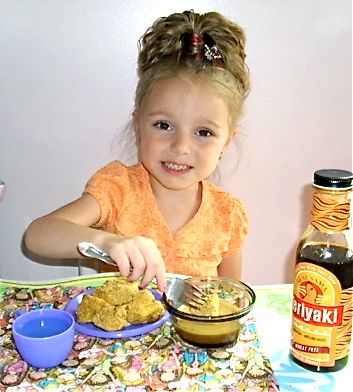 This is my granddaughter's recipe name. She loves the word "jealousy" and the letter "H" and is definitely a Princess! Kids will LOVE helping make these great tasting nuggets that can be dipped in honey-mustard or teriyaki sauce!
2 large chicken breasts, cut into nuggets
1 egg
1/4 cup gluten-free teriyaki sauce (Seal Sama brand pictured)
1/2 cup corn meal
1/2 teaspoon poultry seasoning
1/2 teaspoon oregano
1/2 tablespoon seasoning salt
Preheat oven to 400 degrees. In small bowl beat egg and add teriyaki sauce. Stir. Put corn meal and seasonings into a zip-lock bag. Shake to mix. Cover baking sheet with aluminum foil and spray with canola oil. Dip 5 or 6 pieces of chicken at a time in teriyaki-egg mixture and then into the corn meal mixture. Shake to coat. Place on baking sheet and bake for about 18 minutes, or until lightly browned. Kids LOVE different dips, so be creative!