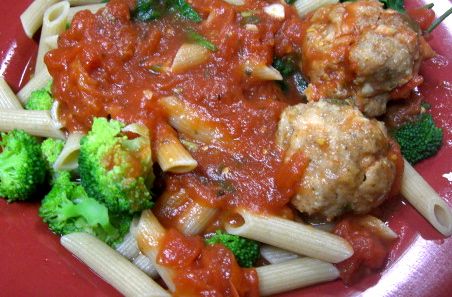 1 pound ground turkey
1/2 cup cooked quinoa
1 egg
1 teaspoon oregano
1 teaspoon thyme
1/2 teaspoon salt
olive oil spray
1/2 cup onion, minced
2 cloves garlic, minced
1 24-ounce jar marinara sauce
4 cups broccoli florets
1 package gluten-free pasta
parmesan cheese (optional)
Precook quinoa according to package directions. In bowl combine turkey, quinoa, egg, oregano and thyme. Coat a skillet with olive oil spray. On medium heat sauté onion and garlic until translucent. Combine onion and garlic with meat mixture. Form 10 to 12 balls. Place gently into pot or deep frying pan. Add marinara sauce. Cover and heat on medium heat. Simmer 20 minutes. Meanwhile, steam broccoli and prepare pasta as directed on package. To serve place pasta, meatballs, broccoli and add sauce as desired. Sprinkle with parmesan cheese (optional). Makes 4 servings.