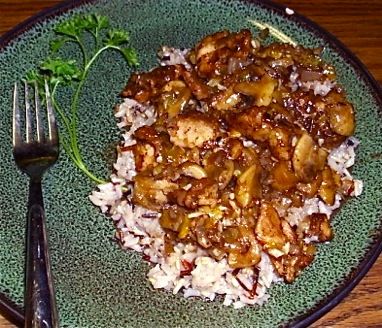 This is a nice GF/CF option when you are in the mood for some Asian cousine.
4 boneless skinless chicken thighs
2/3 cup orange marmalade (I use Smucker's brand)
1/4 cup olive oil
1/4 cup balsamic vinegar
4 cloves garlic, diced
1 small onion, diced
1 quart chicken broth
2 cups rice
2 tablespoons olive oil
8 ounces mushrooms
1 teaspoon poultry seasoning
1 teaspoon basil
1/2 teaspoon pepper
2 tablespoons olive oil
Cut chicken thighs into 6 pieces each and set aside in a container. Stir together orange marmalade, 1/4 cup olive oil, balsamic vinegar, garlic, and onion. Pour over chicken and stir. Cover and marinade 30-60 minutes.
Bring chicken broth to a boil. Stir in rice. Cover and turn to medium-low heat. Simmer 25 minutes.
In large frying pan heat 2 tablespoons olive oil on medium-high heat. Add mushrooms. Pour chicken and marinade into pan. Add poultry seasoning, basil and pepper, and fry, stirring often, until chicken is done. Continue to heat on low while rice is cooking. When rice is done, mix with the remaining 2 tablespoons olive oil.
Serve chicken and mushrooms over rice.