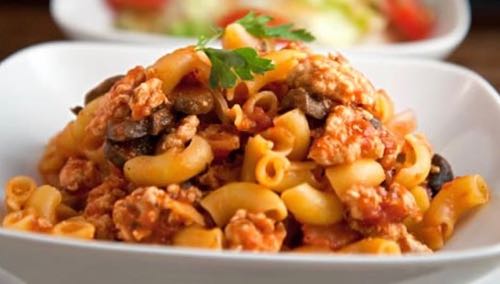 1 lb ground turkey
1 lb turkey sausage
1 lg onion, chopped
10 oz package gluten-free pasta
26 oz can Hunts Spaghetti Sauce, any flavor
15 oz can tomato sauce
14.5 oz can diced tomatoes
2-1/2 cups water
1 can mushrooms
1 can sliced olives
1 tsp garlic
1/2 tsp black pepper
Preheat oven to 400 degrees. Brown ground turkey and sausage in skillet with chopped onion. Drain all juice from pan. In large pan or bowl combine Hunts spaghetti sauce, tomato sauce, diced tomatoes, water, mushrooms, olives, garlic and pepper to make sauce. In baking pan (9×13″ or larger) coat bottom with a small amount of the sauce. Sprinkle pasta in pan. Cover pasta with remaining sauce. Top with meat mixture. Cover tightly with aluminum foil. Bake for 30 minutes. Remove pan from oven; remove foil. Carefully fold with a spoon to mix all ingredients together. Cover again with foil and bake for about 15 more minutes. Check to see if pasta is done.