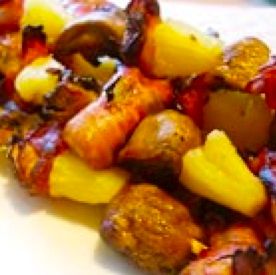 A delicious recipe for the grill.
1/4 cup La Choy soy sauce
1/4 cup cider vinegar
2 tablespoons honey
2 tablespoons olive oil
2 green onions, minced
10 large mushrooms, halved
3 chicken breasts, cubed
1/2 pound thick-cut bacon, halved and sliced
1 8-ounce can pineapple chunks, drained
skewers
In a large bowl mix the soy sauce, vinegar, honey, olive oil and green onion. Place the mushrooms and chicken in marinade and stir to coat. Cover and place in fridge one hour. (Reserve a little marinade in a separate container to use for grilling later.) Preheat grill on high. Wrap the chicken chunks in bacon and thread onto the skewers so that bacon is secured. Alternate with mushroom halves and pineapple. Lightly oil the grill grate. Arrange skewers on the grill grate. Cook 15 to 20 minutes, brushing occasionally with reserved marinade.