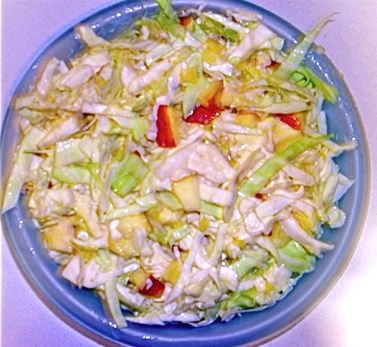 I found that my cabbage salad is very complementary to Creamy Potatoes and Ham. For the salad, red cabbage is a good source of Vitamin C, Vitamin K, Potassium and Manganese. It has twice the nutrients and vitamins of green cabbage. I have dressed it up with apples, pineapple and slivered almonds. The almonds are found on the baking isle. Green cabbage also makes a delicious salad!
Cabbage Salad
1 head red cabbage (green cabbage may be used)
1 (20 ounce) can crushed pineapple
2 apples, cored, sliced and chopped
1/2 cup slivered almonds (my Mom uses walnuts)
1/3 cup Kraft light mayonnaise
Prepare salad by removing heart from cabbage, then chop cabbage in thin slices. Place cabbage in large mixing bowl. Drain pineapple, saving juice. Add to cabbage. Mix in apples and almonds. In small bowl, whisk together mayonnaise and pineapple juice. Pour mixture over cabbage and fruit. Toss well. Refrigerate.