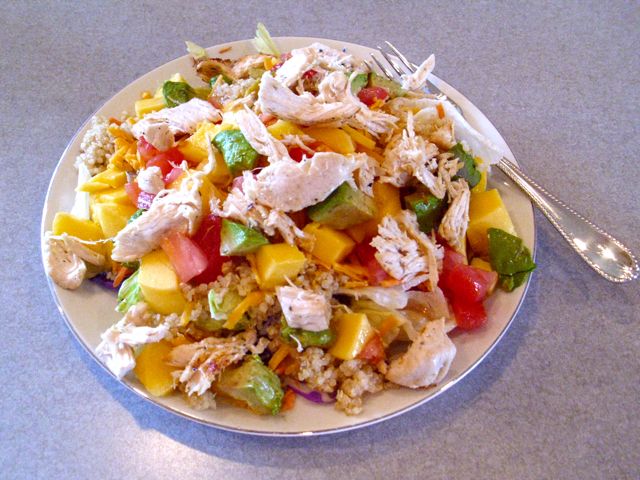 Dressing:
¼ cup Dijon mustard
2 Tbsp fresh lime juice
1 tsp chili powder
¾ cup mayo
½ cup white sugar
¼ cup LaChoy soy sauce
½ cup white vinegar
2 Tbsp fresh garlic, minced
2 Tbsp ginger powder
Place all ingredients in a container with lid and shake (or whisk in bowl). Amount equals one pint, so container should be larger.
Salad:
Large package salad or head of romaine lettuce, chopped
3 tomatoes, diced
2 large mangos
1 cup shredded cheese (or ½ cup feta cheese)
2 avocados
1 cup water
½ cup quinoa
3 Tbsp olive oil
4 chicken breasts
Mrs. Dash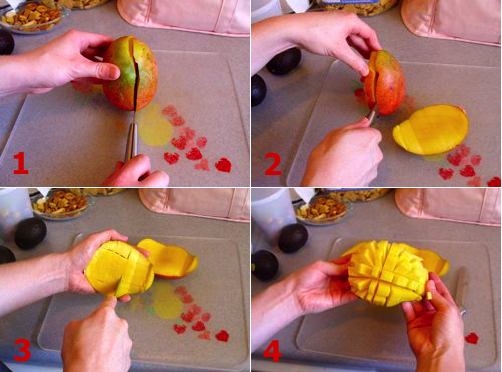 Prepare mangos as shown. Carefully slice between the diced fruit and the skin and you will have perfect mango cubes. This method also works for the avocados.
Boil water and add quinoa. Stir and cover with lid. Cook on medium-low for 15 minutes. Keep warm until serving.
Heat oil in frying pan over medium heat. Cut chicken into strips and place in pan. Sprinkle liberally with Mrs. Dash. Cook with lid on, turning over after about 5 minutes. Chicken should be cooked and tender in 10 to 15 minutes. Shred chicken, using two forks.
To serve, top lettuce with quinoa, then add ½ your dressing. Add chicken. Place other toppings in individual bowls, so each person can add what they like.