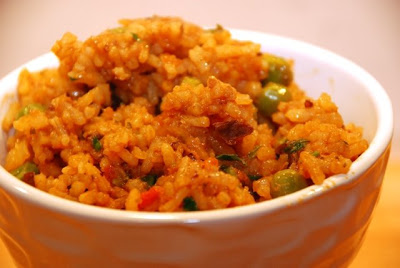 2 cups white or brown rice
1-14 oz can diced tomatoes
1-15 oz can tomato sauce
1/2 pkg bacon
1 bunch green onions, chopped
1 red bell pepper, chopped
1 Tbsp fresh chopped parsley
1 tsp garlic salt
2 tsp seasoning salt
Cook rice according to package directions. Slice bacon into small slices and cook in frying pan on medium; when half cooked add green onions 7 red bell pepper to simmer. When bacon and rice are done, combine all ingredients. Warm through for 10 minutes on medium low with lid on.