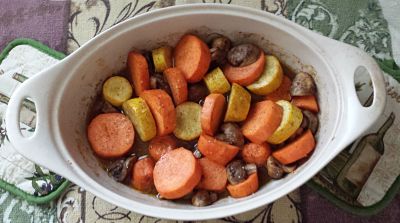 4 tablespoons coconut oil, melted (or butter)
4 tablespoons raw honey
Juice of 1 lime
2 teaspoons ground allspice
2 teaspoons ground cinnamon
2 teaspoons ground ginger
2 pounds sweet potatoes, peeled and cut into 1 inch slices
(for variety, add  squash and mushrooms – to equal 2 pounds)
Sea salt and pepper to taste (I use coarse sea salt)
Preheat oven to 425 degrees. Coat large baking dish with coconut or olive oil. In large bowl, stir coconut oil, honey, lime juice, allspice, cinnamon and ginger until blended. Add sweet potatoes (and other veggies) and toss to coat prior to baking. Arrange sweet potatoes (and other veggies) into single layer, or stacked sideways as flat as possible in baking dish. Season dish with salt and pepper. Bake for 20 minutes then stir to coat with glaze. (I add more salt and pepper at this point.) Bake about 20 more minutes or until slightly tender.
4 servings when used as a side dish. (I eat mine as a meal, so this is two servings for my husband and me.)