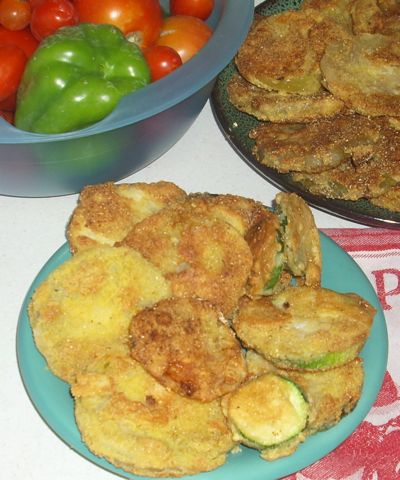 3 medium green tomatoes
½ cup corn starch
½ cupmillet flour
¼ cup rice or almond milk
2 eggs, beaten
1 cup cornmeal
1 Tbsp seasoning salt
olive oil
Cut tomato into ½ inch slices. Sprinkle with seasoning salt. Let stand about 10 minutes. Heat frying pan on medium heat. Pour olive oil to cover bottom of pan. In four flat containers place: 1) corn starch & all purpose baking flour; stirred. 2) rice milk. 3) beaten eggs. 4) corn meal. Set as assembly line and dip tomato slice into flour, then milk, then eggs, then corn meal and then frying pan. Fry for about 3 or 4 minutes, depending on your stove and frying pan. The tomato should be medium brown then turn to cook the other side. To cook the other tomatoes, add olive oil to pan as needed.
Casein free serving suggestion: As a dip, I use a honey/mustard dressing.
My daughter adds Parmesan cheese to her tomatoes, and dips her tomatoes in ranch dressing.
The fried zucchini is my FAVORITE!!!