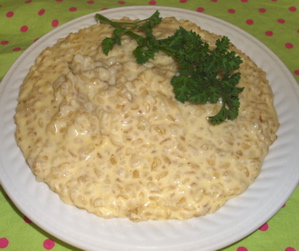 2 cups white or brown rice
4 cups boiling water
12 ounces Velveeta cheese, cut into slices
1 cup sour cream
1/2 cube margarine
1 Tbsp onion flakes,
reconstituted in 1/8 cup hot water
1 tsp celery salt
1 tsp seasoning salt
Cook rice according to package directions. Add the other ingredients to the pan and put the lid on so the ingredients can melt through. Stir well.
Skinny Version: Use light Velvetta cheese, light or fat-free sour cream, and 2 Tbsp butter.