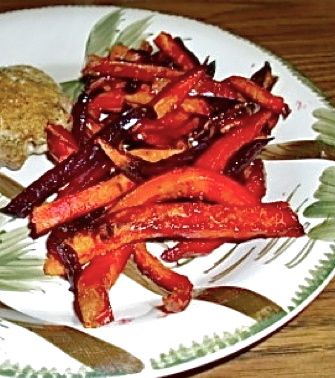 1 large sweet potato
1 large beet
1/4 cup olive oil
4 tablespoons brown sugar
2 teaspoons garlic salt or seasoning salt to taste
Cut root and top off of beet. Leaving skin on, slice beet and sweet potato into small fries. Preheat oven to 400 degrees. Spray baking pan with oil. Arrange fries on pan. Brush with olive oil. Sprinkle with desired seasoning.* Bake 20 minutes.
*For sweet fries, whisk together brown sugar and garlic salt. For salty fries, use seasoning salt.