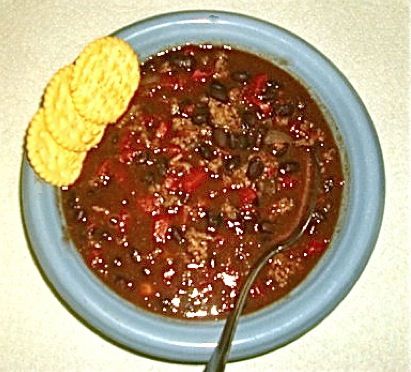 I love using variations of different beans for chili. This is my favorite red chili recipe! I use store-brand cans of beans. This chili is great when you are short on time. It cooks up in just a few minutes.
1 onion, peeled and chopped
3 cloves garlic, peeled and chopped
2 pounds lean ground beef or ground turkey
2 cans red beans
2 cans black beans
2 (28 ounce) cans petite diced tomatoes
2 tablespoons chili powder
2 tablespoons cumin
2 teaspoons salt
Place onions and garlic in large frying pan on medium-high heat. Use large spatula to cut up ground beef over the onion and garlic. Continue until ground beef is browned.
Drain and rinse beans in strainer. In large pot, add beans and one can diced tomatoes. In blender, puree the other can of diced tomatoes; add to pan. Add chili powder, cumin and salt. Add ground beef mixture and heat through. Chili is ready to serve!
Note: For spicier chili add more chili powder and cumin.