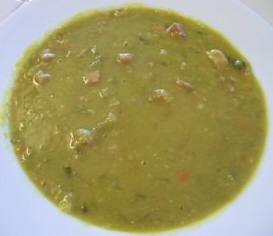 1 cup dried split peas (soaked overnight, drained)
1 1/2 cups diced ham
2 stalks celery, diced
1/2 cup carrot, minced
1 quart chicken broth made with water and 4 spoons Knorrs Caldo de Pollo
1 large onion, diced
3 green onions, diced
1 Tbsp fresh parsley, chopped
2 cloves garlic, minced
1 tsp pepper
1 tsp butter
1 tsp olive oil
Soak split peas in water overnight. Drain. Set aside. Saute onions and garlic in butter and oil till golden.
Add ham. Add peas, carrots and celery. Add broth, parsley and pepper. Pour into a crock pot. Cook on low about 7 hours.