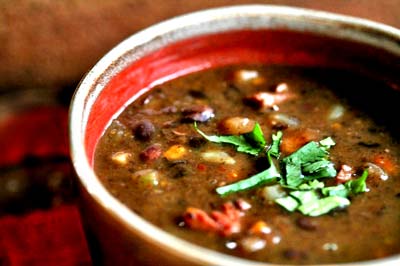 This soup is filling and delicious – and VERY low-calorie! Eat all you want!!
1 large can tomato juice
2 tsp Knorrs Caldo de Res bouillon, dissolved in 1 pint water
1 whole cabbage – sliced
several carrots – cut up or from the bag
several potatoes cut up (I leave the skins on)
1 can black beans
1 can kidney beans
1 tsp onion powder
1 tsp celery salt
salt & pepper to taste
In a LARGE soup pot add all ingredients. Bring to a boil. Simmer until done – about 1-1/2 to 2 hours.
Eat freshly cooked, then store the remainder in a bowl in the fridge.