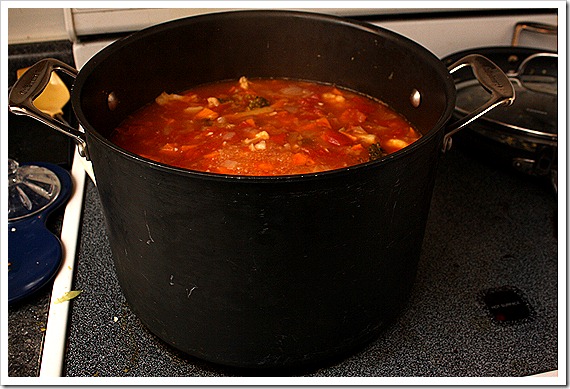 1 bunch fresh broccoli
1 bunch fresh cauliflower
5 thick slices ham
4 cups hot water
3 cups tomato juice
2 heaping Tbsp Corn starch
2 Tbsp Knorr Caldo de Pollo Bouillon
1 tsp onion salt
Prepare broccoli and cauliflower by cutting out centers and chopping into pieces. Cut ham into small cubes. In large pot, place vegetable rack and hot water. Bring to a boil. Add broccoli, cauliflower and ham and cover with lid. Boil/steam about 20 minutes on medium heat. While steaming, prepare broth by pouring tomato juice in a small mixing bowl. Add Corn starch and stir with a wire whisk. Follow with bouillon and onion salt. When vegetables are tender, remove vegetable rack; do not drain. With pan at a full rolling boil, add tomato juice mixture and stir well. Soup should soon take on a slightly thicker consistency, and be ready to serve.