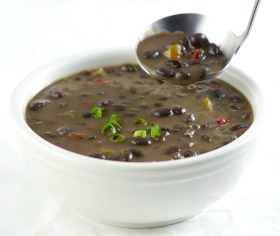 2 cans peas (no frozen!)
1 can black beans
1 can evaporated milk
2 ham slices
2 Tbsp minced dry onion
1/2 tsp garlic salt
1 Tbsp seasoning salt
2 cups cheddar cheese, grated
Pour peas into a blender and puree on high. Pour pea mixture into a large pan. Add black beans and evaporated milk. Chop ham into small cubes (about 2 heaping cups) and add to pea mixture. Add seasonings. Stir and simmer on medium heat until heated through. Add grated cheese to hot bowls of soup.
Skinny Version: Use fat-free evaporated milk, turkey ham, and fat-free or lowfat cheese.