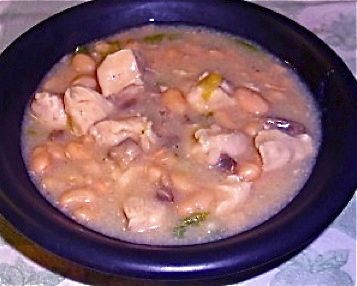 This recipe can be done with any white bean. Each kind offers a little different taste, so I use different kinds for variety. This one was done with Great Northern Beans. My family LOVES this!
4 chicken breasts, cubed
4 (15.5 ounce) cans white beans, drained
10 mushrooms, chopped
1 green pepper, chopped
6 green onions, chopped
1 teaspoon sage
1 teaspoon garlic salt
1/4 cup Knorr's Caldo de Pollo bouillon
5 cups water
3 heaping tablespoons corn starch
1 cup water
In large pot, add chicken, beans, mushrooms, green pepper, scallions, poultry seasoning, sage, garlic, bouillon, and water. Cover with lid and heat until boiling. Turn heat to medium and continue cooking with lid on about 15 minutes more, stirring often, until chicken is done and veggies are just tender. Remove lid. Chili should still be boiling, if not, turn up heat. Combine corn starch with water and stir into chili to thicken. Cool and serve.