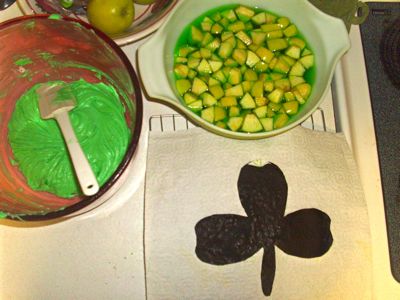 For the past few years I had lost my St. Patrick's Day spirit, and forgot what it was like being a FUN mom! Now that my granddaughter is in the spirit at school, with the leprechan playing naughty tricks, I am getting on board and having some fun!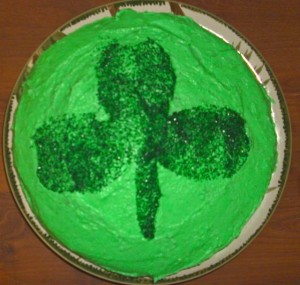 For GREEN jello, make lime jello as directed and put in green apples.
For a GREEN dessert, bake a Betty Crocker's Gluten Free Cake. I used chocolate cake mix, using olive oil instead of butter. For frosting I used 2 cups powdered sugar, ½ cup shortening, 1 tsp vanilla, 1 tsp flavoring (I used coconut) and 2-3 Tbsp rice milk.
For a cute clover on top, I used a large serving spoon on a paper towel to draw the leaves, and the end of the spoon for the stem. Then drew a little groove in each leaf, and cut the clover out. I placed it on top of the frosting, and sprinkled green sugar décor over the design, then lifted the pattern. You can draw four clover leaves, if you are feeling lucky!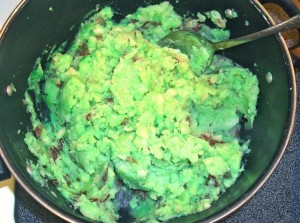 For dinner we are having BBQ pork chops and GREEN home-style mashed potatoes. For the potatoes I cut red potatoes into 4, leaving skin on, then place them on a vegetable rack to steam for about 20 minutes until tender. After draining the remaining water, add some rice milk with green food coloring, then mash. For a buttery flavor I use a bit of Spectrum Canola Oil Spread.
Have fun creating your own green dishes!