Each year I become Grandma Claus and invite my kids, grandkids, and great-grandkids, along with their spouses, to my home for a Christmas party. I always have treats for each person, in addition to refreshments and party fun.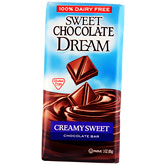 This year, I'm giving out chocolate bars. I was concerned about what I could give to my daughter, who follows a gluten-free/casein-free diet. I was so pleased to discover these dairy-free, gluten-free Sweet Chocolate Dream bars at my neighborhood grocery store!
Happy Holidays to all, and especially to my beautiful daughter, The Gluten Gal!
Margaret Slack