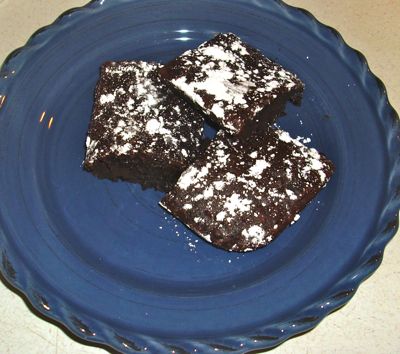 Here is a healthy alternative for gluten-free brownies! They taste so great your family will never know you've snuck in something nutritious!
I used a box of Betty Crocker Gluten Free Brownie Mix along with a 15.25 ounce can of black beans. That's all!
To make these delicious brownies, drain and rinse black beans. In a blender puree the black beans and 2/3 cup water. Mix black beans and brownie mix. Grease an 8×8 or 7×11 pan and smooth brownies. Bake in a 375 oven for 25 – 30 minutes. Check with a toothpick or fork for middle to be done, then sprinkle powdered sugar on top.
This works for regular brownie mixes too!
Some interesting nutrition facts about black beans:
Black beans taste great but that they can also be an important part of a health promoting diet. Each cup has about 15 grams of both protein and fiber. There are at least 8 different flavonoids in the black bean's color coat. Flavonoids are color-producing phytonutrients pigments that have great anti-oxidant potential. They work together with vitamins to help the body avoid oxygen-related damage. Black beans also contain small amounts of omega 3-fatty acids. This amount is about three times that available from many other beans. They include many important vitamins and minerals.
I'd love to hear your ideas for using black beans!