by Christine Roach
These are a healthier version of the normal oatmeal cookies. It's a good way to sneak in some extra fruit!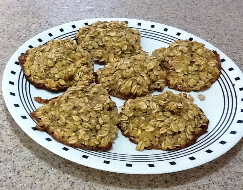 GF/CF Pineapple Oatmeal Cookies
Ingredients:
2/3 cup applesauce
1 cup packed brown sugar
½ cup white sugar
1 egg
1 tsp vanilla extract
¾ cup GF flour
1 tsp guar gum
1 tsp baking soda
1 tsp ground cinnamon
3-1/2 cup GF oats (Bob's Red Mill)
1 (8-oz) can crushed pineapple, drained
(May add 1 cup raisins and ¾ cup chopped nuts if desired)
Preheat oven to 350 degrees. Grease cookie sheets. In a mixing bowl, cream the applesauce and the sugars together. Then add the vanilla and the egg. In a separate bowl, sift together flour, guar gum, baking soda and cinnamon; add to the creamed mixture and stir. Stir in the crushed pineapple. Finally, mix in the oats. Drop dough by heaping spoonfuls about 2 inches apart. Cook for 12 minutes. Allow cookies to cool for a couple minutes before transferring to plate or cooling rack.