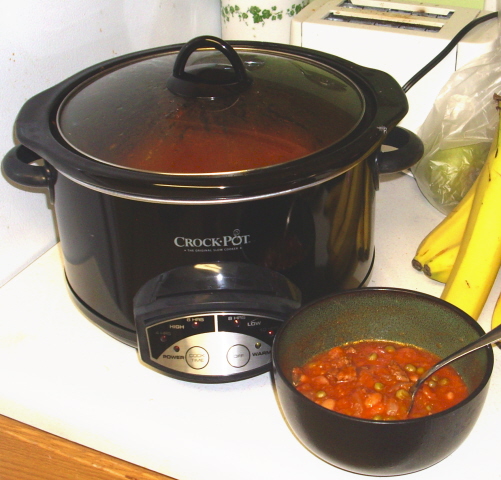 I just got a brand new crock pot, after living for five years without one, since my old one gave up. I immediately put it to use!
There are so many ways of combining things of which you probably have on hand, to make a wonderful hearty vegetable soup.
Today I used 2 cups of pinto beans that I had soaked overnight, fried one pound of ground beef, peeled and shredded potatoes (3 cups), carrots (2 cups), chopped one small onion and added canned peas. I poured one tall can tomato juice (V8 is great too) into my crock pot and then added the other ingredients. I then seasoned the soup with salt, pepper, one teaspoon celery salt, and added one cup water, then cooked it on low for 8 hours. It was thick and delicious!
It's fun to be creative, and try different things, like using chicken or beef broth instead of tomato, using Knorr's Caldo de Pollo or Res, and adding whatever vegetables, beans or gluten-free pastas you'd like.