My family worked hard to give me a surprise birthday!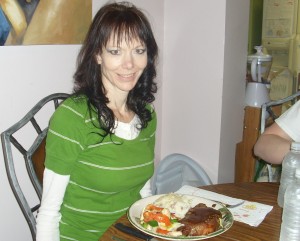 They kept me in the dark about my birthday dinner, my cake and my presents! Normally when I have a birthday there is no fuss, and so I wasn't expecting any. But this time when dinner time got near, they began acting suspicious, and asking me to stay in my room. My 6-year-old grand daughter started telling me, with a funny smile on her face, "There's no surprises!"
When it was dinner time, Joscelyn led me out of my room, and into the dining room, to my seat. I was very surprised to find that my husband had shopped at Costco for my favorite steaks and had cooked them to my liking on the grill. My daughter, Kayli had made home-style mashed potatoes, using red potatoes with the skins, with olive oil and rice milk to mash them, plus a little crushed red pepper, just the way I like them! She had also made a delicious vegetable salad, and had bought my favorite dressing – honey Dijon vinaigrette. My steak was cooked to my liking – medium rare, and topped with A-1 sauce. What a delicious birthday dinner!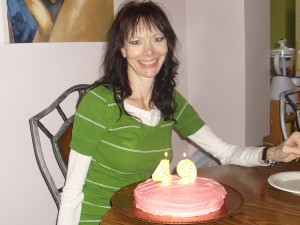 Then they served my pink birthday cake! Since my birthday is in February, and falls close to Valentine's Day, I've always loved having a pink cake! I enjoyed the Betty Crocker Gluten-Free cake that Kayli made me, substituting canola oil for the butter. She also used my casein-free recipe for frosting that can be found in the blog that is three down.
I was extra surprised when I was presented with my FIRST bike EVER!!!