Non-Dairy Eggnog Christmas Custard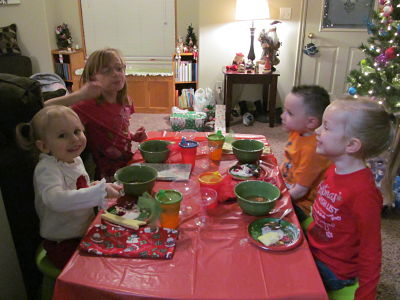 My favorite meal of the year is my family Christmas dinner, which traditionally was held on Christmas Eve. Now that my kids have grown and have families of their own I'm happy to find a time near the holidays when everyone can be together! My old traditional meal has changed over time because of the different food intolerances. This year I completely let our traditional menu go and made it new and fun. It included a thick beef stew (made with new things including sweet potatoes) and bread sticks (gluten free, of course!). I did include our traditional Christmas Jello. For dessert I wanted something light and festive, but also something we could all enjoy.
With several different food intolerances, including gluten, dairy, soy and nuts among members of the family, I opted for an eggnog type custard dessert made from my favorite nog – So Delicious Nog Coconut Milk. It's completely egg and dairy free. The taste is amazing – I think it tastes more delicious than real eggnog! I tried this recipe first with my husband's regular Meadow Gold Eggnog. It turned out perfect and he loved it! Plus this is quick and easy to make!
I found the So Delicious Coconut Milk at my local health food store. I bought the agar agar on Amazon.
This recipe works well with any eggnog including Silk soy or almond and rice milk eggnog.I used cinnamon sticks as a garnish.
For the recipe go here.