It's possible to make wonderful gluten-free pies and I have done so many times. But, this year, because I am eating gluten-free AND casein-free, it means no more cream pies at our house. We'll still be having delicious desserts, though. We're having COOKIES!
We've decided on two of our favorites: GF/CF Pumpkin Chocolate Chip Cookies and GF/CF Christmas Sugar Cookies. Of course, you can make the sugar cookies into any shape. Turkey-shaped cookies are always a favorite with my grandkids.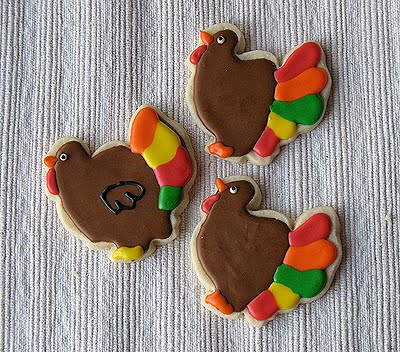 I'm also going to try a new recipe this year from Christine:
GF/CF Golden Yam Brownies
Brownies:
1 can yams
1 cup oil
1 cup brown sugar
1 cup white sugar
4 eggs
1 teaspoon guar gum
2 teaspoons vanilla extract
1-1/2 cups gluten-free flour
1 teaspoon baking powder
1/2 teaspoon salt
Frosting:
1 cup powdered sugar
3 tablespoons water or casein-free milk substitute
1 tablespoon lemon juice (can use other flavoring, lemon juice cuts the sweetness)
Preheat the oven to 350 degrees F (175 degrees C). Coat a 9×13-inch baking pan with shortening or cooking spray. Mash yams with a potato masher. In large bowl, cream together yams, oil, brown and white sugar, eggs, guar gum, and vanilla. In another bowl, combine flour, baking powder, and salt. Stir into yam mixture just until blended. Spread the batter in baking dish. Bake for 30 minutes until a toothpick inserted in the center comes out clean.
Mix together powdered sugar, lemon juice and milk. Spread over the brownies while they are still warm. Some of the glaze will soak into the brownies.
Happy Thanksgiving!