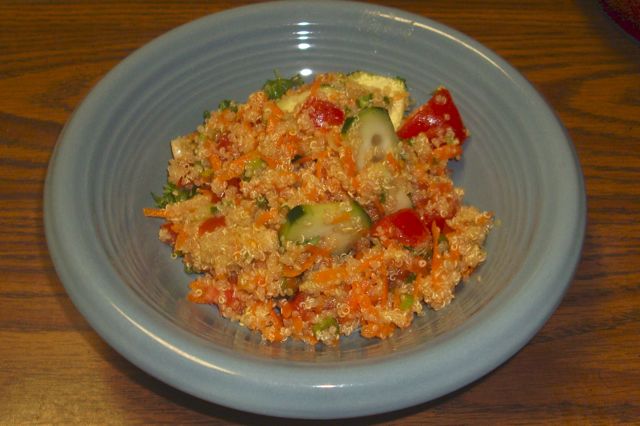 Quinoa is an amino acid-rich protein seed that has a fluffy, slightly crunchy texture and somewhat nutty flavor when cooked. It is cooked much like rice, using twice the water, but the cooking time is 15 minutes. Quinoa is found at your local heath food store.
Quinoa is commonly considered a grain, but is actually a relative of leafy green vegetables like beets, spinach and Swiss chard. It is a recently rediscovered ancient "grain" once considered "the gold of the Incas." While relatively new in the United States, quinoa has been cultivated in the Andean mountains of Peru, Chili and Bolivia for over 5,000 years. The Incas considered it a sacred food and referred to it as the "mother seed."
Not only is quinoa high in protein, but also it supplies a complete protein, meaning that it includes all nine essential amino acids. It is a good choice for vegans concerned about protein intake. It has the amino acid lysine, which is essential for tissue growth and repair. Quinoa is a very good source of manganese, magnesium, iron, copper and phosphorus.
Quinoa may be especially valuable for persons with migraine headaches, diabetes and arteriosclerosis.
Quinoa is good preventative of breast cancer as well as preventing gallstones in women. Eating a serving of whole grains, such as quinoa, at least 6 times a week is an especially good idea for postmenopausal women with high cholesterol, high blood pressure and other signs of cardiovascular disease (CDV).
Grains and fish have been proven to help children with asthma.
I have enjoyed making quinoa salads as well as adding quinoa to meat. I just LOVE the taste and texture of quinoa, and can't wait to eat it as soon as I have prepared a dish! Get my recipe for Quinoa Tabbouleh in Gluten-Free Recipes: Side Dishes.