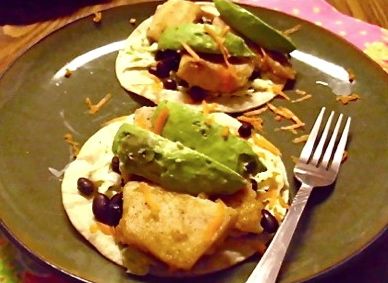 I love tilapia, and also Mexican food! These tilapia tostadas are seasoned and fried for an authentic "fish tacos" experience. This is my daughter Kayli's favorite meal, so we have it often, and I am always happy to have her help in the kitchen. It is easy and fun to prepare. This meal is a hit with our guests, even those who don't usually like fish. The tilapia is combined with black beans, a lime-coleslaw plus avocado, making it both delicious and satisfying.
Corn tortillas can be tricky to "cook" just right. My favorite way it to do it on a baking sheet under the broiler. The directions are included in this recipe.
This recipe is both gluten free and casein free – a plus for my family and others!
Get the recipe for Tilapia Tostadas.