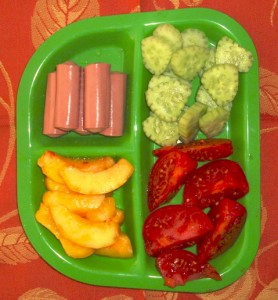 In my niece Christine's article – which is in my site when you click on Autism/ADHD, she talks about a suggestion she found in The Kid-Friendly ADHD and Autism Cookbook.
Picture a SQUARE MEAL. For this I bought easy to find (Walmart) divided plates for kids. When you picture a square, the right half should consist of vegetables; the left is split in two – one for good proteins and one for starches and fruits. (Fruits count as starch.)
I made two samples of this idea. The first has raw veggies – cucumber and tomatoes. The protein is Vienna Sausages, and the starch is fresh peach slices.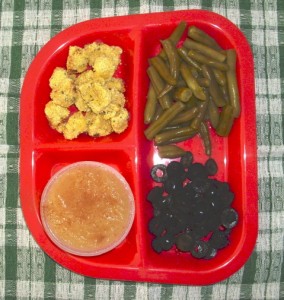 For the next, I've chosen green beans and olives for veggies; chicken nuggets (from my ebook – GFCF recipes for Special Kids) and applesauce for fruit.
These meals are easy to prepare with the "square" concept! Your own child may enjoy carrot sticks or corn, apple or orange slices, and even a peanut butter sandwich on a rice cake or gluten-free bread – it's a great protein!
This is a SUPER EASY way to feed my granddaughter Joscelyn, who eats gluten-free. She loves the colorful divided plates, and how fun the food looks on it! She can't resist eating these easy "square" meals.