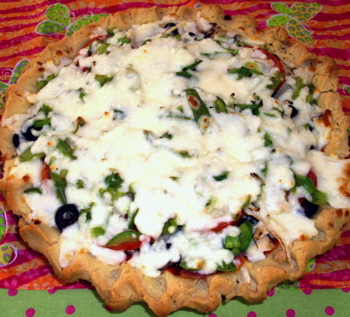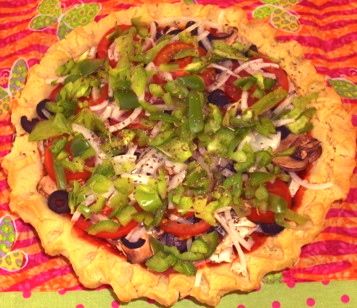 Pizza is such a huge part of our American culture. We order in for special occasions such as sports events on TV, birthdays, holidays, watching DVD movies and even just a quiet Sunday night at home. We go out to pizza following fun occasions, or just because of our cravings!
The gluten-free world puts a damper on our regular pizza habits. I remember craving pizza from my hospital bed, after my celiac diagnosis! One of my hospital roommates had kids who would sneak in fast foods and pizza for her to eat. That was just CRAZY for me to deal with!
I did learn to buy rice pizza shells from specialty/organic stores, and make my own individual pizzas. Or make my own crust. Larraine's Pizza Pie My love for pizza goes on… and I keep trying new things. This pizza pie has been a hit with my own family! They love the flavor of the crust, and the way the different toppings add to the over-all pizza! Have cheese or no cheese, depending on whether you are eating casein free or not.
Just because we live in a gluten-free world, it doesn't mean we have to go without foods we love!
See