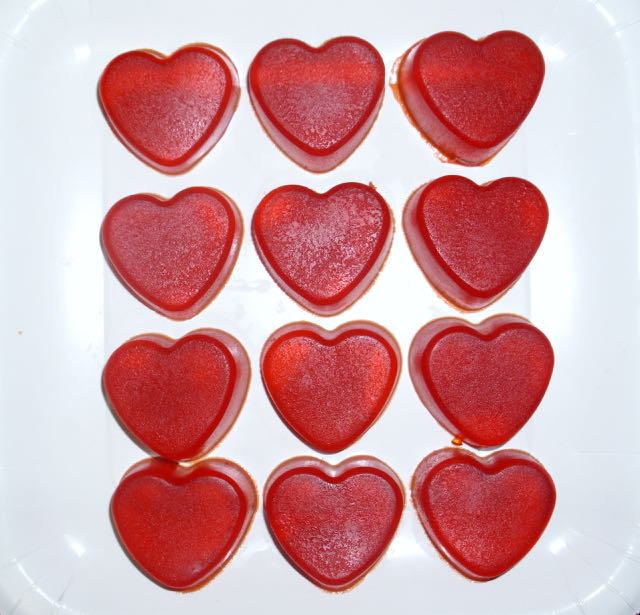 I have made finger jello for my kids for at least 25 years. Now I am making it for my grandkids. This is a fun way to make it for Valentine's Day!
The basic recipe for finger jello is:
4 packages Knox gelatin
3 small (3 oz.) boxes Jello (any flavor)
4 cups boiling water
Put Jello and Knox gelatin into a bowl. Add water and stir until dissolved. Pour into a 9×13 inch pan. Cool in refrigerator. When firm, cut into squares.
For these hearts, I place the mold on a cookie sheet then spray the molds very lightly with oil, then pour the gelatin in with a measuring cup. Since it makes more than the heart molds, I also put some in muffin tins or a square pan to cut up.
Since the molds are in high demand for Valentine's day, here's a link to save time looking for one:
Wilton Petite Silicone Heart Pan
For more fun with the mold, I found this idea very popular on Pinterest. I am giving these heart-shaped crayons to my grandkids. I have seen a variety of ways to do this, but this is what works best for me:
I use 2 packs of 24 Crayola crayons. (I found that cheaper crayons don't color as well.) I slit the paper on the crayon with a X-Acto knife and use scissors to cut each crayon into 8 pieces. I fill the molds full, and have fun experimenting with different color combinations. With my mold on a foil-lined cookie sheet I place the crayons in a 250 degree oven. My oven takes about 20 minutes to melt the crayons fully. I'm sure ovens vary, so check them often after 10 minutes. When melted, I set my pan on a cooling rack for a few minutes before placing them in the refrigerator. After they are cold, I pop them out, then use a potato peeler to take off the fine white wax that is formed on the back ridge of the heart.
The photo shows two sets of crayon hearts.