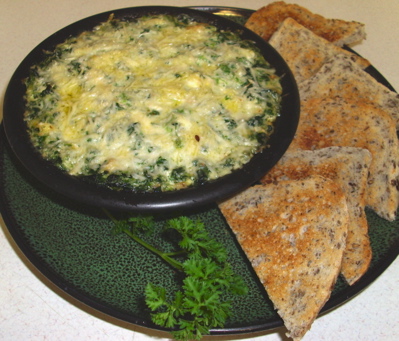 Every time I'm at a seafood restaurant, I crave this dip!
1-8 oz pkg cream cheese, room temperature
1/2 cup Kraft mayonnaise
1/2 cube butter, softened
1 cup frozen chopped spinach
1/2 cup crab claw meat (imitation crab has gluten)
1/4 cup shredded Parmesan cheese
4 slices gluten-free bread
Put spinach in a glass bowl in the microwave for about 30 seconds, then chop big pieces apart with a spoon. Put spinach into a one cup measuring cup, microwaving more spinach, if necessary, until your cup is full.
In a bowl, mix together cream cheese, mayonnaise, butter, spinach and crab.
Pour into a small glass oven-proof baking dish. Top with Parmesan cheese. Bake at 450 degrees for 10 to 12 minutes.
Serve with 4 toasted slices of your favorite gluten-free bread, cut in two triangles each.
Serves 4.